Working to End Breast Cancer: Annual Les Girls Event
The Breast Cancer Vaccine is coming! The National Breast Cancer Coalition's Artemis Project collaborators have pioneered research towards a preventative breast cancer vaccine, united with a single goal to end breast cancer forever. With their lead, the vaccine will enter Phase I clinical trials in 2022.
All of us at iS Clinical have supported the incredible work of the National Breast Cancer Coalition (NBCC) for many years, and we remain steadfast in our commitment to working with NBCC to end breast cancer for good.
Our founders, Bryan Johns and Alec Call, who serve on the Board of Trustees for the National Breast Cancer Coalition Fund, will be honored with a leadership award on Sunday, October 24, 2021, at their annual Les Girls Cabaret fundraising event in Los Angeles. iS Clinical has been the long-time title sponsor of the event, and we want to help make this year's event more successful and impactful than ever!
Sherry Goldman, a remarkable nurse practitioner and breast cancer survivor, who serves on the Board of Directors for the NBCC, will also be honored for her advocacy work.
Since 1991, NBCC has been at the vanguard of the breast cancer movement, elevating breast cancer to an issue of national significance. NBCC brought about a federal research program that has awarded over $3.9 billion in grants. They educate and empower women and men to become a unified voice to save lives.
NBCC is a highly effective, visionary group that has an astounding list of accomplishments. With your support, they will end breast cancer.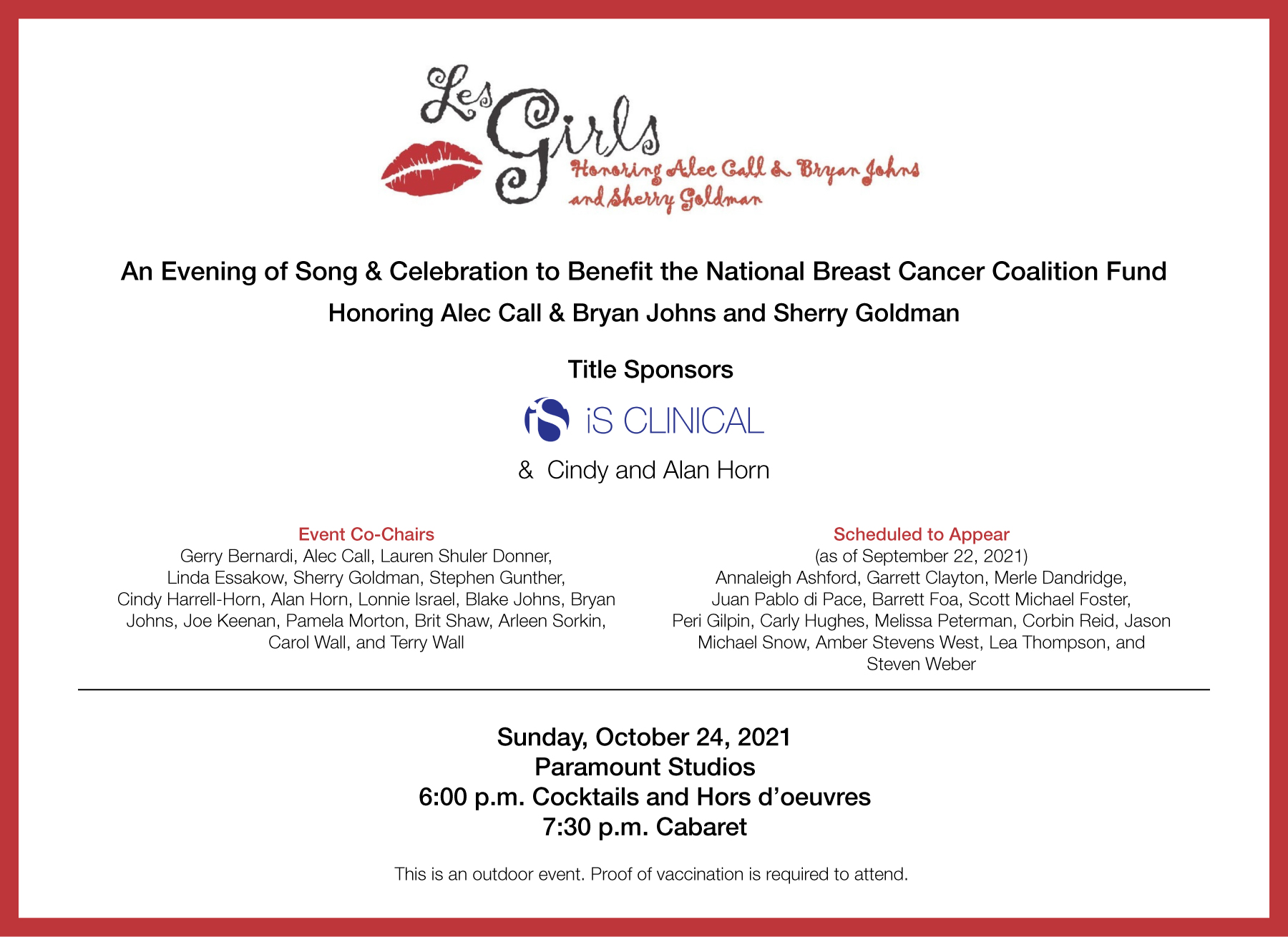 ---
For further information or to purchase tickets, contact: Allison Jackson | 310.550.7719 | allison@allisonjacksonco.com