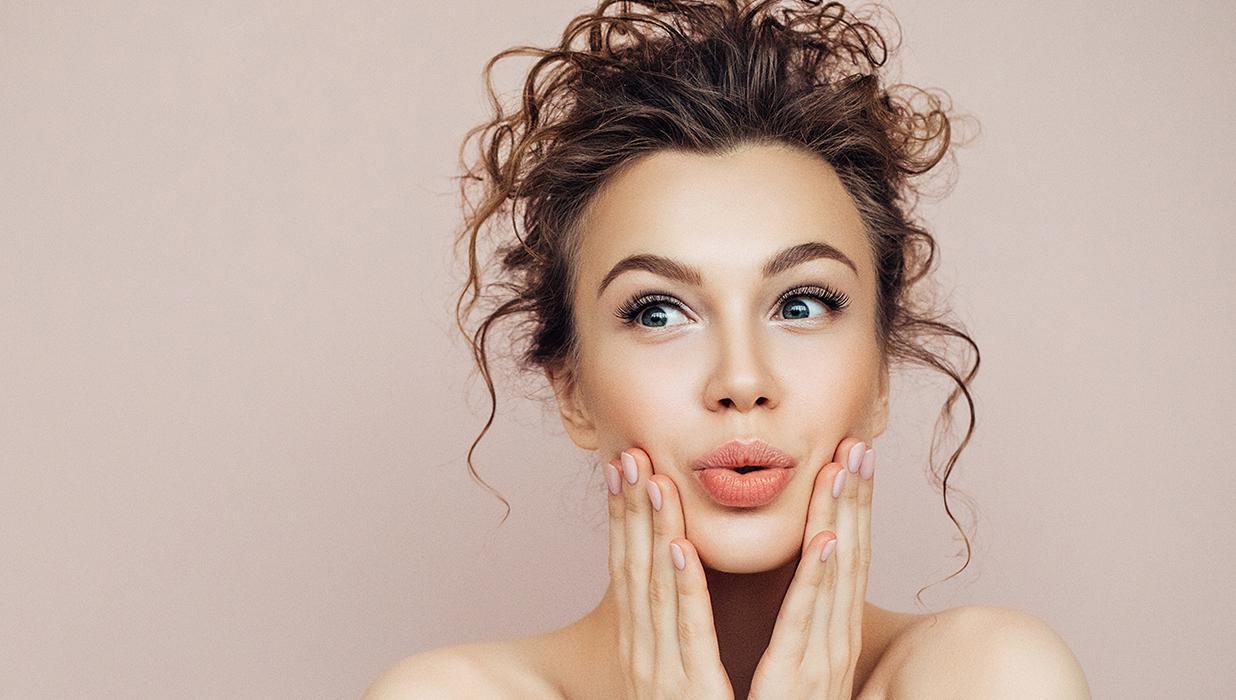 Upon first glance, most people notice the lips and eyes on a person. The lips, primarily the definition of the upper lip, increases the perceived attractiveness of the face. It's not hard to see why plump and pouty lips are currently trending, and the demand for lip-enhancing products is on the rise.
It can be challenging to keep your lips in plump condition with so many environmental factors involved. Lips are easily compromised due to pollution, smoking, blue light, UVA/UVB, and infrared exposure, all of which accelerate the aging process.
Lip structure varies from other facial skin and is more susceptible to earlier signs of aging. There are two main categories of lip aging: macroscopic and microscopic. Macroscopic lip aging is the visible signs of aging around the mouth area due to atrophy, which results in sagging and loss of definition. Microscopic lip aging accounts for the cracking, dryness, and lines within lips. Trans-epidermal water loss (TEWL) also affects lip appearance. TEWL occurs three times more greater the amount on the lips than the cheek or face.
There are several topical treatments to counteract the visible signs of lip aging. The most popular treatments are hyaluronic acid, antioxidants and enzymes, exfoliation, emollients and moisturizers, anti-aging actives, and inflammatory agents.
Hyaluronic Acid (HA) offer the plumping effect many people seek. Hyaluronic acid is used naturally in the body in numerous tissues, including skin, to hold water. It is capable of holding thousands of times its weight in water within a hyaluronic acid molecule. Several forms of hyaluronic acid are available for use as ingredients within cosmeceuticals. One high-tech form of hyaluronic acid is the freeze-dried microsphere in which water is removed from the hyaluronic acid by freeze-drying and the molecule is then formed into a tiny microsphere. These freeze-dried microspheres nestle inside wrinkles and immediately absorb water, giving that "plumping" effect to the wrinkle.
Antioxidants and enzymes help by protecting the lips from hostile environments. Vitamins E and C are vital ingredients that team together to protect the water and lipid-rich parts of the lips.
Exfoliation is a helpful way to remove dry skin. Sugar is the main ingredient in many exfoliants and doubles as an energy source for environmentally weakened or aging mitochondria.
Keeping the lips moisturized is an excellent way to maintain a healthy skin barrier. Emollients and moisturizers work to smooth, plump, and hydrate the skin surface.
Anti-aging actives help to increase collagen and elastin synthesis, which is associated with youthful lips. Copper tripeptide is a safe ingredient and often used within anti-aging actives.
Inflammatory agents can provide the plumping effect but at a cost. Products like cinnamon and wintergreen briefly cause the desired lip swelling look, but by doing so can cause irritation and are pro-aging.
iS Clinical offers several products specially formulated for the delicate skin on the lips to help protect their youthful appearance.
Lip Polish is a gentle and effective scrub with powerful antioxidants of Vitamins C and E, blended with intensely rich botanical butter. This natural-sugar based polish can be used 2-3 times per week, or more often if desired. Gently massage a small amount onto wet lips in circular motions to encourage exfoliation and help to smooth and hydrate. Rinse with water or remove with a damp cloth to leave lips with a healthy glow.




Youth Lip Elixir is a luxurious and highly moisturizing treatment that visibly smooths and hydrates as it enhances, softens, and plumps the overall appearance of the lips. This innovative formula combines the purest and most potent botanical extracts with clinically proven antioxidants and can be applied as often as desired. Hyaluronic Acid, Vitamins C, E, & B5 Shea & Cocoa Butter, and our proprietary combination of Extremozymes provide unprecedented multilevel protection against dangerous environmental aggressors.




CLICK HERE to read "Getting Lippy: Lip Aging and Topical Treatments, A Review" written by our Clinical Director Dr. Charlene DeHaven and published in Cosmetics and Toiletries Magazine.