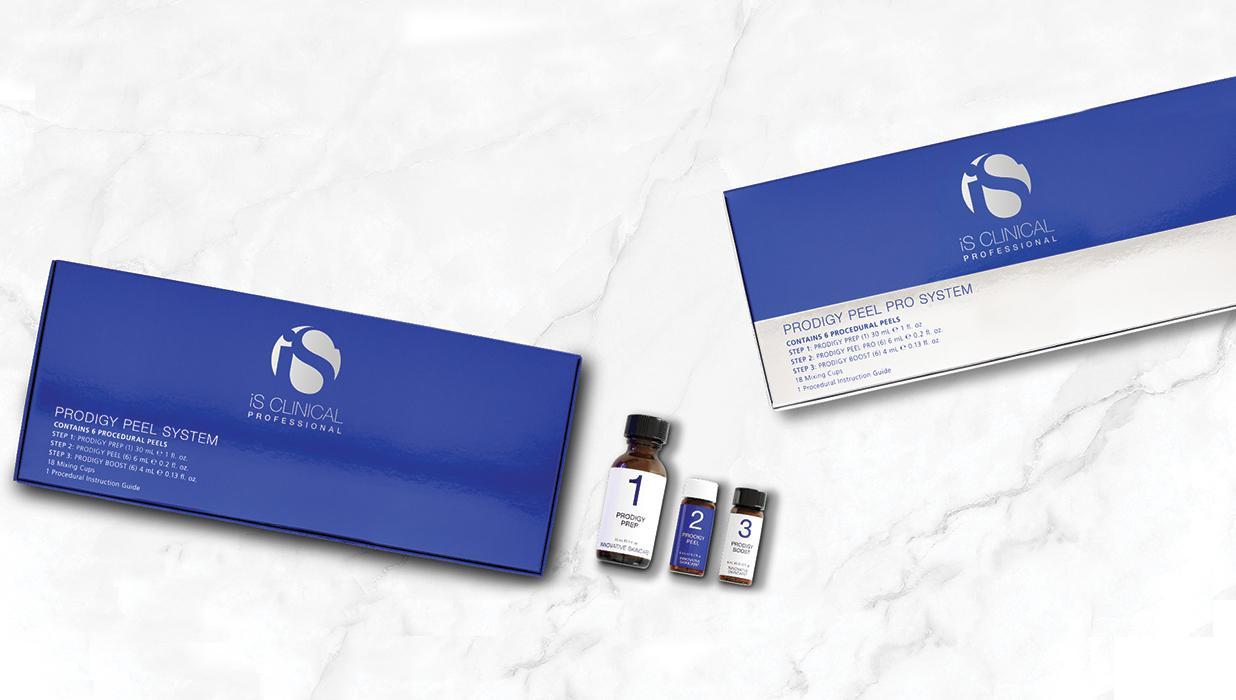 Out with the old, in with the new. The beginning of a new year is often a great time to introduce a chemical peel to your skin. Peel season is like a reset button for your skin. It's an opportunity to shed away damage from the previous year and start fresh. A peel series is a bonus to your regular skincare routine, giving you smooth, glowing skin that is prepped and ready to take on the new year ahead.
iS Clinical has developed two self-neutralizing peel systems that provide a safe, effective way of maintaining and improving the appearance of skin.
The Prodigy Peel System is a superficial peel designed to target mild acne, visible signs of aging, and brighten pigmentation irregularities and uneven skin tone, revealing a revitalized and radiant complexion.
The Prodigy Peel Pro System is an enhanced superficial to medium-depth peel designed to significantly brighten uneven skin tone, including hyperpigmented areas and age spots. It powerfully targets skin laxity, acne, fine lines, and wrinkles, resulting in a renewed complexion.
The Power of the Prodigy Peel System
The iS Clinical Prodigy Peel System is unlike any other peel on the market. It is known as a designer peel, formulated with safety and barrier preservation in mind, featuring multifunctional ingredients with the ability to give longevity to healthy tissue in addition to increasing exfoliation. A designer peel like this one is very different from peels of the past. Non-designer peels of the past were formulated with an acid of choice, applied with inadequate discretion, and often inconsistent results. In the 2000s, we saw ingredient and formulation technology evolve tremendously, allowing the industry to take skin treatments and chemical peels to the next level in a much safer and effective manner.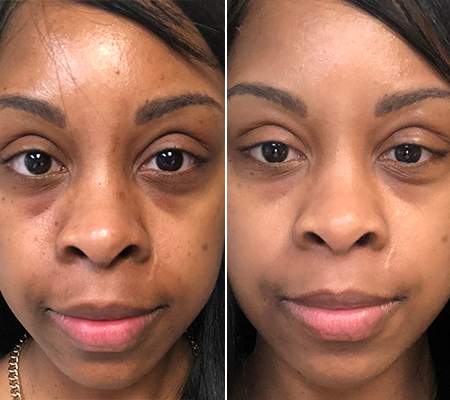 Pre-Prodigy Peel System vs. Day 10 Post-Prodigy Peel System
Let's take a look at the unique benefits of the Prodigy Peel System. The sophisticated technology of the Prodigy Peel System allows for:
Shedding of permanently damaged skin cells
Healing and strengthening of cells
Preservation and protection of cells that are healthy and undamaged
Pharmaceutical-grade ingredients
A controlled application method, and a sensation check-in scale. This prevents heightened inflammation, discomfort, and sensitivity.
Glowing, smooth skin
The iS Clinical Difference
Chemical peels of decades past and lower quality peels presently on the market not only remove permanently damaged skin cells but can also strip the skin of perfectly healthy and reparable cells. This unhealthy and unnecessary activity causes the shedding of healthy cells, heightened inflammation, and increased dryness and dehydration. This does not contribute to proper skin function or repair. This abnormal activity can also result in adverse effects, including acceleration of existing conditions.
The iS Clinical Prodigy Peels must be administered by a certified iS Clinical partner. These partners have been trained and certified specifically in the Prodigy Peel course to ensure that the peels are administered safely and follow all proper protocols.
Key Reminders
Talk with your skincare professional to learn if you are a candidate for a Prodigy Peel. If you are not an immediate candidate, this will likely be due to barrier sensitization. The good news is that this is reversable by beginning a proper iS Clinical regimen customized by your skincare professional.
Your skincare professional will first need you to commit to a morning and evening Cleanse, Treat, Hydrate, and Protect iS Clinical regimen before you are ready to begin a series of Prodigy Peels. In the meantime, you can schedule another iS Clinical facial, like Foaming Enzyme Facial, Honey Enzyme Facial, or Exfoliating Clear Skin Facial. With a consistent skincare regimen, your skin will go through an adjustment period, restoring barrier health, building skin tolerance, and balancing cellular functions. Checking in with your skincare professional on a monthly basis will be your guide to assessing your skin's progress and determining when your Prodigy Peel can be scheduled. Always be sure to consult with your physician, dermatologist, or skincare professional first before you undergo any sort of treatment.
Not Everyone Peels
Remember, peeling occurs when a skin cell is damaged to the point of being irreparable. If a damaged cell is reparable, Prodigy Peel will initiate the repair process. When skin is prepped and healthy, less peeling is expected, and that's okay! This does not mean that conditions and concerns will not be mended and reversed; it means that these positive changes will happen faster. Dramatic peeling is not a requirement for good results.
Moderate to excessive peeling symbolizes more damage. It is common for a person using the peel for the first time to experience more shedding. This is especially true for someone new to using pharmaceutical-grade skincare and who has recently adopted a consistent regimen. These individuals have retained more permanently damaged cells over time that need to be released. Once this occurs and the Prodigy Peel System series continues, the shedding will decrease each time, which is ultimately the pathway to healthy skin.
Commit to a Peel Series
It's considered best practice to receive a peel series. Whether there is one primary skin concern or multiple skin concerns, such as hyperpigmentation, lines and wrinkles, oiliness and congestion, or acne, a Prodigy Peel Systems series will be effective. The best course of action is to undergo the peels two weeks apart.
iS Clinical Ingredients are of Superior Quality
iS Clinical utilizes pharmaceutical-grade ingredients in all of our products, so naturally, this applies to the Prodigy Peel System as well. Throughout the Prodigy Peel Sytems, you will see ingredients such as Resorcinol, Lactic, Salicylic, and Citric Acids being used, with an optional boost including Retinol, Capryloyl Salicylic Acid, and Hexylresorcinol. iS Clinical formulates all products with integrity, ingredient superiority, and safety.
Retail Necessities
It is important to invest in a thorough iS Clinical skincare regimen prior to Prodigy Peel Systems in order to achieve the best results and avoid a negative response. Home care to prepare the skin should be based upon your skin type and skin goals. Consult with your skincare professional on post-peel products and carefully follow aftercare guidelines. The following products are the most appropriate iS Clinical staples to take home after the Prodigy Peel Systems:
To be used days 1-6
On day seven, you should continue using products from days 1-6 and insert one or more of the following Treat and Hydrate options based on your skin and your skincare professional's guided recommendation:
Even if the skin appears healthy and well adjusted, you should continue this regimen for another week leading up to the next peel in your series.
Beneficial Additions to Your Regimen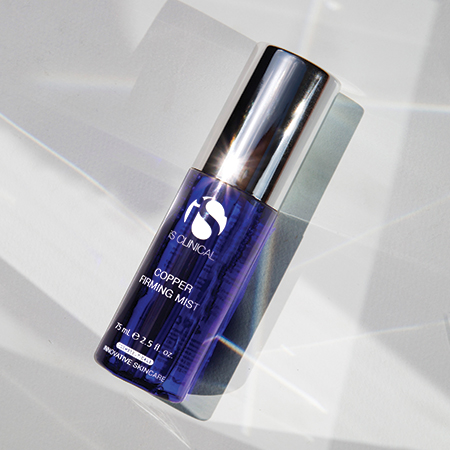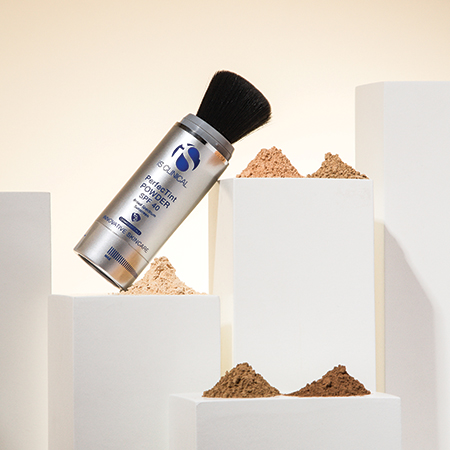 Copper Firming Mist
As the skin heals post-peel, it is common to feel dehydrated or drier periodically throughout the day. Copper Firming Mist is a quick mist that immediately helps to restore hydration. It can even be spritzed directly over makeup and other iS Clinical products.
PerfecTint Powder SPF 40
We know the importance of a good SPF at all times, especially after a peel! Reapplying is always necessary and a healthy habit to keep. Do not forgo SPF reapplication after receiving any of the Prodigy Peel Systems. PerfecTint Powder SPF 40 is ideal, as it's the simplest way to reapply SPF and hydrate the skin, all without disrupting makeup or other iS Clinical products.
Even better, these products are portable. You can pop them into a purse, gym bag, or beach bag. You can also keep them at the office, and easily travel with them.
When the Prodigy Peel Systems series is completed and two weeks of aftercare is concluded, you may go back to your regularly scheduled regimen, possibly with some great new additions to maintain immediate and long-term results.
To schedule a Prodigy Peel by a certified iS Clinical partner, visit our Find a Professional page to locate a partner near you.